Hello, fellow growers!
I'm excited to tell you about the upgrades I've made to the original space bucket design.
In the last few weeks, I've added a few pieces of hardware to make the space bucket even easier to manage.
Its temperature and humidity are now monitored and maintained with a small easy to program digital controller.
I also 3D printed a pair of fan adapters so I can attach ducting to the fans (there's a download below).
A carbon filter has also be put into the mix to help eliminate any powerful smells.
Let's go through each upgrade and how to attach them to the space bucket.
3D Printed Fan Adapter
The original bucket had fans, but if I wanted to connect those to a filter or humidifier, I needed a way to attach an air duct. I always thought 3D printing technology was really cool. When I realized it was the answer to my problem I jumped right into designing a fan adapter. My local library has 3D printers the public is allowed to use after a short training program, so I signed up. I recommend checking out your local library, they have some pretty amazing resources at your disposal, not just books!
The fan was 90mm, the air duct was 4″, and the design was pretty straight forward. You will notice the one I printed is smaller than the 3D rendering. The reason for this is that the original design would require 5 hours to print. Ain't nobody got time for that! The software I used made it really easy to scale the height by about 50%. This reduced the print time to just over 2 hours. This shorter adapter was perfect for attaching a duct tube.
The 3D printed piece fit perfectly. I was a little worried it might not be rugged enough, but it's working well. All I had to do was screw it on. You could add some sealant between the adapter and the fan to help keep the whole thing a little more "airtight". The hose clamps I used were 4″ and they were just large enough to fit around the fan adapter with very little room to spare.
The material I used to print it was PLA plastic, which is a type of biodegradable plastic made from renewable sources like corn starch. Because it's biodegradable it won't last forever and will need to be replaced later on, but at least I'm not adding to the landfill. There are other polymers you can use to 3D print that will last much longer but they cost more. This one adapter cost only $3.50 in materials! To save even more material I set the printer to infill only 10%. Infill is a setting for 3D printers to limit the amount of material to use to fill solid areas. You can set it to 100%, but the print will take a really long time. 10% seems to be enough to keep the piece very solid. There might be small cracks here or there, but for me, the smell isn't going to be a big issue with this grow.
My adapter was inspired by a design by a company called Mostly Safe Space Buckets. They are based out of Portland Oregon and sell all sorts of space bucket kits and supplies. They also have a comic strip! I've never seen that before, but it's really cool. I originally found them on Etsy, but they also have a website. Go check out their space bucket kits.
Fan Adapter 3D File Download
Here's a link to the STL file. It can be loaded into any 3D printing software and you're ready to go!
In return for the 3D model, please take a moment to follow us on our social media channels. Get the latest updates on our products and blog right in your feed! Thanks!
Automated Temperature and Humidity Control
Having a way to maintain the optimum environment for your cannabis plants is really important. My apartment is super dry in the winter so I wanted to find a way to attach a humidifier to my bucket. I started researching different ways I would be able to automate the environment inside the bucket. I found a few products online that required a lot of re-wiring and seemed way to complicated. I just wanted something plug and play. Eventually, I found a supplier who built exactly what I was looking for.
This device consists of a humidity and temperature sensor, a small programmable display and two power outlets. One outlet will control a humidifier or dehumidifier, the other will control a fan or a heater. You can program the device to turn on a humidifier if the relative humidity gets low, then shut off when it's at the right level. To control the heat you can plug in your exhaust fan to suck out hot air if it gets too warm.
The controller also has different settings for day and night. The length of each cycle can also be modified. There's even an alarm that goes off if it gets too hot, cold, humid, or dry. It's very handy and simple to use.
We no longer sell these specific control units. Instead we now sell INKBIRD® brand controllers which are more reliable and easier to use.
Smell Proof Your Spacebucket With a Carbon Filter
When your plants start to flower, the smell of cannabis is going to get quite strong. Attaching a carbon filter to your exhaust fan should reduce this smell substantially. Since the bucket doesn't have enough room inside for a filter, you will have to blow the dank air out through the filter.
This was probably the easiest and quickest of all the upgrades I did to the bucket. I found the filter on Amazon here, as well as some duct tubing here.
Control Your Space Bucket Humidity
Using a humidifier is a great way to maintain the right humidity inside your bucket, especially if you're in a dry climate. In this build, I used a 4 Litre Honeywell dehumidifier I found on Amazon. The reason I used this one is that it's analog instead of digital. Since it's controlled by the sensor, it needs to be able to turn on as soon as it has power. Digital humidifiers usually need a button to be pressed everytime it gets plugged in. This one has a simple switch that you can just leave on.
I had to modify the cover to make space for the 4″ T pipe. This pipe allows the fan to pull in fresh air as well as moisture.
Thanks for reading and following along with the space bucket build. If you have any questions or ideas on how to improve the design, leave us a comment below!
If you're interested in learning more about growing cannabis at home, be sure to join our mailing list. When you sign up you also get a free copy of our grow guide that covers all sorts of basics about growing cannabis. Sign up below!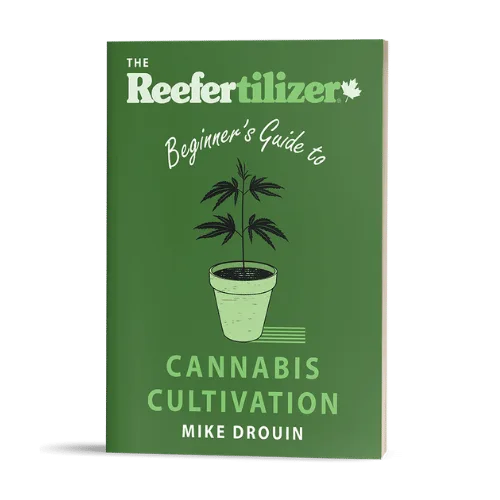 If you want to learn even more about growing good cannabis, we offer a free 40+ page guide full of images. Now available on Amazon.
Sign up for our newsletter and download the digital copy today!
This guide will answer many questions about growing cannabis, like the following...
Selecting Seeds
Identify and Correct Problems
Maximize Yield
Much More...
Get a Chance to INSTANTLY WIN a Reefertilizer Nutrient Kit When You Sign Up.