Part of A Complete Breakfast For Your Plants In Veg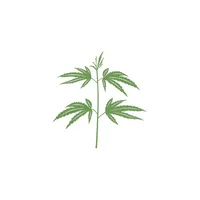 The Complete Fertilizer For Plants in Veg
Reefertilizer® Grow is the first substantial meal of nutrients for your high-value plants. When plants have their first 3 sets of leaves they are ready to be fed a full NPK fertilizer. Reefertilizer® Grow is high in nitrogen and other micronutrients like magnesium that help build strong stems and leaves.
Easy Weekly Feeding For Plants in Veg
Veg Phase Feeding Schedule
Start feeding your plants Reefertilizer Grow when the plant has 3-4 sets of leaves.
| | |
| --- | --- |
| Veg Week 1 | 1 scoop mixed into 4L of water |
| Veg Week 2 | 2 scoops mixed into 4L of water |
| Veg Week 3 | 3 scoops mixed into 4L of water |
| Additional Veg Weeks | 3 scoops mixed into 4L of water |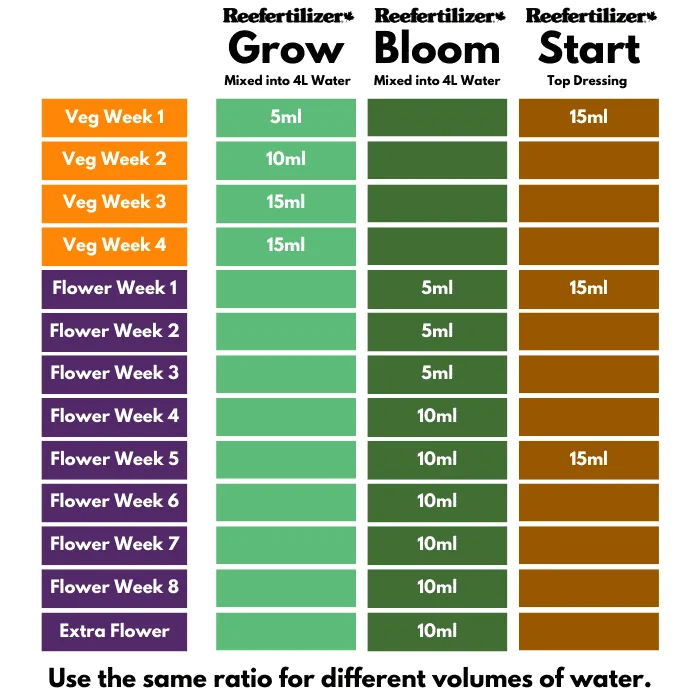 Easy Weekly Feeding Schedule
Reefertilizer likes to keep things simple. Feed your plants once a week and top up your soil with Start once a month.
Some folks split the weekly dose and feed their plants twice a week.
If you need more or less nutrient solution, just use the same ratio no matter how much water you're using.
If you accidentally overfeed your plants, you can easily flush your medium with water.
How to Mix & Apply Reefertilizer Grow
Add the necessary amount of Grow to a small glass of warm water.
Mix Grow into the water until mostly dissolved.
Mix solution into water for feeding or reservoir.
Veg Grow Nutrients Simplified
Guaranteed Analysis
(A fancy way of saying total weight by volume)

Total Nitrogen (N)

20%

Available Phosphate (P

2

O

5

)

5%

Soluble Potash (K

2

O)

10%

Magnesium (Mg)
3%
Boron (B)
0.02%
Copper (Cu)
0.05%
Iron (Fe)
0.10%
Manganese (Mn)
0.05%
Zinc (Zn)
0.05%
Reefertilizer® Grow
Reefertilizer Grow contains the essential nutrients required to establish strong stems, good leaf structure, and healthy root systems. Grow is a chelated synthetic nutrient that allows elements to be metabolized immediately, much faster than organic fertilizers.
These essential elements and added micronutrients help fuel many cell functions crucial to photosynthesis and cellular replication.
Macronutrients For Plants in Veg
Micronutrients For Plants in Veg
Magnesium
Boron
Copper
Iron
Manganese
Zinc
Includes Getting Started Guide 
We created our products to make it easier for folks like you to start growing their own high value at home.
We provide our Beginner's Guide to Home Cultivation free with each order and to our email subscribers.
Learn the basics of growing at home; from germinating seeds, caring for your plants through veg and flower, as well as processing that harvest you worked so hard to grow.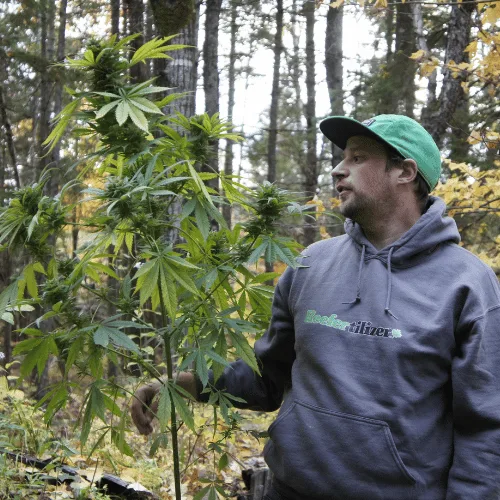 Written by Mike Drouin; an experienced grower and co-founder of Reefertilizer nutrients.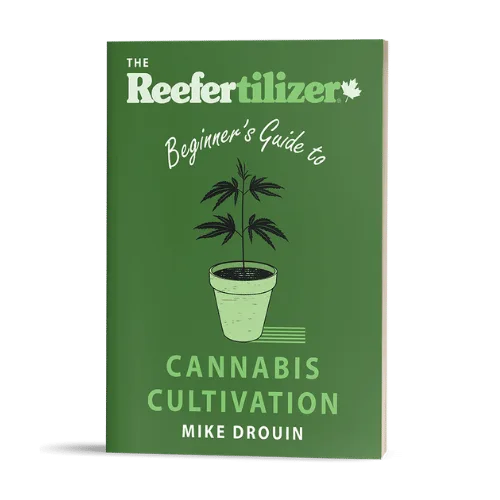 What Our Customers Think Of Reefertilzer Grow Fertilizer
Are synthetic fertilizers harmful?
Microbes in soil feed off the same elements provided by organic or synthetic nutrients. Avoiding over-fertilization and maintaining the right soil pH will keep soil microbes happy. Organic inputs like Reefertilizer Start will feed the microbes in your soil.
When overused, synthetic fertilizers can end up in wastewater adding to agricultural runoff. That's why having healthy soil is important. In healthy soil, plants are able to absorb more nutrients meaning you end up with less in your waste runoff.  
What makes Reefertilizer Grow different from other veg fertilizer?
Other veg fertilizers usually need to be used with additional inputs. Reefertilizer Grow has a NPK ratio perfect for plants in flower as well as all the other micronutrients beneficial for the veg period.
Enhanced with magnesium, Reefertilizer Grow reduces the number of additional inputs you might need.
Our goal at Reefertilizer is to get more folks growing their own high value plants. Reefertilizer provides easy-to-use and affordable nutrients along with straightforward guidance and support.
We designed our products to be lighter and have less packaging than our competitors and we're happy to offer a 30-day return policy if you're not happy with our products.
We're not "big fertilizer", we're just three guys who love growing and consuming our own plants.
When do I start feeding my plants Reefertilizer Grow?
You can start feeding your plants when they have their first 3 to 4 sets of leaves. One plant that size might not need a whole 4L of nutrient solution. In that case you can split the dose in half. So instead of 1 scoop in 4L, you would do 1/2 scoop in 2L. The ratio is what's important. You can use any volume of nutrient solution you want if you maintain the recommended nutrient-to-water ratio.
How much do I feed my plants?
Start with 1 scoop (5ml) for every 4L (1 gallon) of water. Feed each plant weekly with enough of this solution to fully saturate the soil and have a bit of runoff. You can water your plants as needed in between feedings. Some folks split the dose and feed twice a week. Both work fine, pick whichever method is easier for you.
Can I pre-mix these nutrients?
Because these are chelated nutrients they don't do well being mixed into water and stored for long periods of time. The elements within the solution can react with each other and lower the effectiveness of the fertilizer. A few days is okay, but anything longer than a week might not be a good idea.
Get More From Your Plants
Reefertilizer Grow Is Just One Part of a Balanced Diet
Reefertilizer was designed to make growing amazing plants at home easier than ever. The Reefertilizer grow kit will feed your soil as well as up to 8 plants with no need for additional inputs.
When all three are working together a successful harvest is easy to achieve.
You might also be interested in these items