Simply Grow Good Bud.
We have created nutrients that are easy to use, versatile, and reduce waste. Each bag we sell comes with a guarantee and a promise to help guide you through your first few grows.
Our three products are designed for each step of plant growth.
Reefertilizer Start was designed for those growing in soil, peat moss or coco coir. A mixture of organic compost and mycorrhiza, Start soil conditioner develops a healthy soil for the roots of young plants.
Our blended powder fertilizers provide the right ratio of nutrients while the plant is in veg or flower. Just measure, mix, and feed!
If you plan on growing hydroponically or with auto pots, our Grow and Bloom bundle is exactly what you're looking for.
A Step by Step Grow System
Step One – Start With Good Soil
Reefertilizer Start provides beneficial micro organism to your soil, coco, or peat moss growing mediums. Having a healthy living soil provide the right environment for roots to metabolize nutrients and water.
Our 100% organic soil conditioner contains mycorrhizal spores that will grow with roots systems. This process further increases the ability of roots to uptake water and nutrients.
Made from 100% Organic and renewable sources
Add to soil, coco, and peat moss
Helps increase nutrient and water uptake
Step Two – A Thriving Veg Period
Start feeding your plants Reefertilizer Grow when they have their first 3-4 sets of leaves. This Canadian made powder fertilizer is an all-in-one blend for plants in their vegetative phase of growth. Simply mix into water and feed your plants once a week.
Our nitrogen rich ratio helps plants establish strong branches, wide leaves, and faster growth. It also provides essential micro nutrients important for cellular processes within the plant.
Easy to measure, mix, and feed
Increases growth rate
Provides essential nutrients for your plants
Step Three – Focusing on Flowers
Reefertilizer Bloom was designed to be a versatile fertilizer blend for flowering plants. It provides the basic elements for optimum bud growth and terpene (essential oil) production.
Once your plants begin to show signs of flowering you will switch from using Grow and feed plants Bloom once a week.
Concentrated nutrients for flowering plants
Nutrients are immediately available to the plant
Easy to follow weekly feeding schedule
Nutrients Crafted for Growing Good Buds at Home
Here's a typical example of growing plants using Reefertilizer nutrients. These are the photos from a customer's first time growing while using Reefertilizer. They grew 4 plants in soil inside a 4×4 grow tent with a 600 watt LED grow light,
Starting seeds in small planters filled with potting soil and Reefertilizer Start.
The seed has sprouted, this is where the fun begins!
When using Reefertilizer Start, young roots will expand quickly below the surface.
The plant was transplanted to a larger pot. Now's the time to start using Reefertilizer Grow.
These plants grows quickly when the right nutrients are available.
With new growth comes new leaves to suck up more light.
When pre-flowers start to show, it's time to switch to Reefertilizer Bloom.
Flowers begin to swell and the plant takes on it characteristic smell.
The flowers are maturing. Flush your plants with regular water for the last 2 weeks of flower.
Harvest time! Buds are cut and hung to dry.
How To Grow Good Bud at Home With Reefertilizer
"Reefertilizer is some top notch stuff for your plants"
"Your nutrients have been quite successful for me in my testing. A little goes a long way!"
Jeremy – California Grower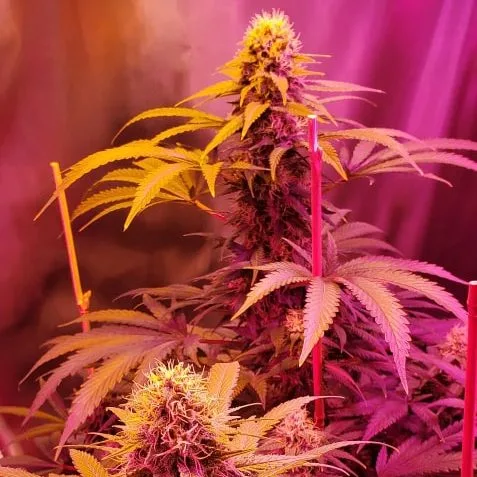 "Bought Reefertilizer package and boy are my plants loving it. Ill be back for more."
Use Reefertilizer for Your Indoor or Outdoor Gardens
Using Reefertilizer Start to Build a Healthy Root System
Reefertilizer Start can be used 3 different ways depending on your growing style.
No matter which way you choose to use it, Reefertilizer Start will inoculate your soil with mycorrhizae and provide beneficial micro organisms.
Three ways to use Reefertilizer Start
Mix Reefertilizer Start into some potting soil to make your own super starter soil for seeds and cuttings in small pots.
Use Reefertilizer start when you transplant into a larger pot. About 3 scoops per hole should do the trick.
Apply Reefertilizer Start as a top dressing. Apply 3 scoops around the base of your plant and water normally. Great option for autoflowers.
Using Reefertilizer Grow and Bloom for Optimum Growth
Reefertilizer Grow and Bloom are both water soluble powder fertilizers. We recommend feeding your plants once a week and water them if needed when growing in soil. If you're growing in auto pots or hydroponics you will need to adjust your reservoir concentration accordingly.
Tap water is fine to mix with Reefertilizer and use with your plants, but the quality of water may differ from place to place. Using a pH pen will tell you if your tap water overly acidic/basic. Plants grown in soil enjoy a pH of around 6 which allows roots to metabolize the most nutrients possible.
How Measure and Mix 4L of Reefertilizer Nutrient Solution
Add the recommended amount of powder fertilizer Grow or Bloom to 250ml of water.
Mix solution well until the powder dissolves. Using warm water helps this process.
Add solution to 3.75L of water and mix well. You're ready to feed your plants.
Recommended Feeding Schedule
Veg Phase
When your plants have 3 to 4 sets of leaves, you can begin feeding them Reefertilizer Grow once a week.
| | |
| --- | --- |
| Veg Week 1 | 1 scoop mixed into 4L of water |
| Veg Week 2 | 2 scoops mixed into 4L of water |
| Veg Week 3 | 3 scoops mixed into 4L of water |
| Additional Veg Weeks | 3 scoops mixed into 4L of water |
Flower Phase
Start feeding your plants Reefertilizer Bloom when you switch lights to 12/12 or when preflowers appear.
| | |
| --- | --- |
| Flower Weeks 1-3 | 1 scoop mixed into 4L of water |
| Flower Weeks 4-8 | 2 scoops mixed into 4L of water |
| Additional Flower Weeks | 2 scoops mixed into 4L of water |
| 1-2 weeks before harvest | Flush plants with plain water |
Guaranteed Analysis
(A fancy word for ingredient % by total weight)
Organic Brown Sea Kelp Granules
Mycorrhizal spores (Rhizoglomus irregulare) 2 spores / g
Total Nitrogen (N)

20%

Available Phosphate (P

2

O

5

)

5%

Soluble Potash (K

2

O)

10%

Magnesium (Mg)
3%
Boron (B)
0.02%
Copper (Cu)
0.05%
Iron (Fe)
0.10%
Manganese (Mn)
0.05%
Zinc (Zn)
0.05%
Total Nitrogen (N)

5%

Available Phosphate (P

2

O

5

)

30%

Soluble Potash (K

2

O)

20%

Calcium (Ca)
4%
Magnesium (Mg)
3%
Boron (B)
0.02%
Copper (Cu)
0.05%
Iron (Fe)
0.10%
Manganese (Mn)
0.05%
Need Help Getting Started?
Sign up for our newsletter and we will send you a copy of our Guide to Cultivation.
Along with this helpful guide you will receive product updates, discounts, and our latest articles about growing and processing plants at home!
Seed Germination
Setting up a Grow Room
Grow Techniques for Getting Larger Yields
How to Cure and Dry Flower
Even More…